The definitive guide to choosing a tent for your event
Published on 18th February 2021 by
Jenny Mason
Marquees have always been a popular choice for wedding receptions, offering a unique and private space in often unrivalled and memorable locations. When you begin planning your marquee wedding, we understand there's often so much choice, it's hard to know where to start! Here's quick overview of marquee styles, and our tips as to how to choose the perfect tent or marquee for your celebrations.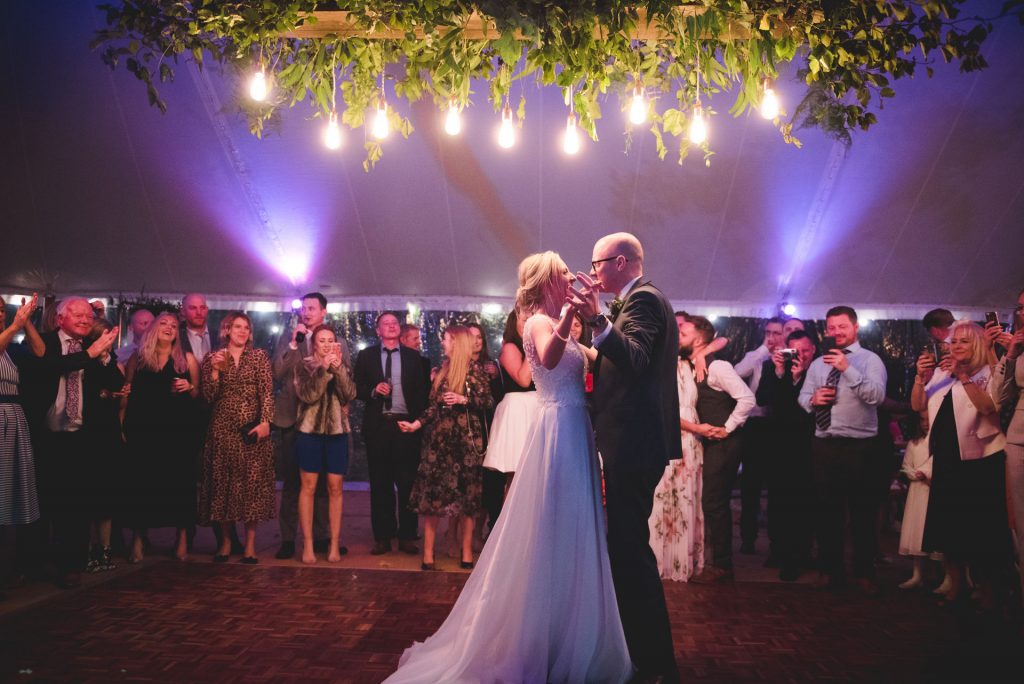 When is your event?
The time of year that you choose to get married can quickly rule out quite a few options. Generally Sailcloth marquees are regarded as a late spring, summer and early autumn option (April – October), as they are perfectly designed to help achieve that indoor/outdoor aesthetic by making the most of the setting with their panoramic windows. If you choose to go for a winter wedding, we'd generally recommend that you find a clearspan marquee as they're a little easier to build and maintain in the event of extreme weather . You'll also need some decent space heaters!
Summer is naturally the most popular time of year for marquees in general, as the lure of the outdoors is one of the main reasons behind one.
Where will you put your tent?
There are marquee venues, locations and fields available to hire all over the UK, if your back garden isn't quite big enough for your plans. We have a pretty comprehensive list of some of our favourite marquee venues on our website, either across the UK or in Yorkshire. Naturally this list is by no means exhaustive and we're always happy to discover new marquee locations.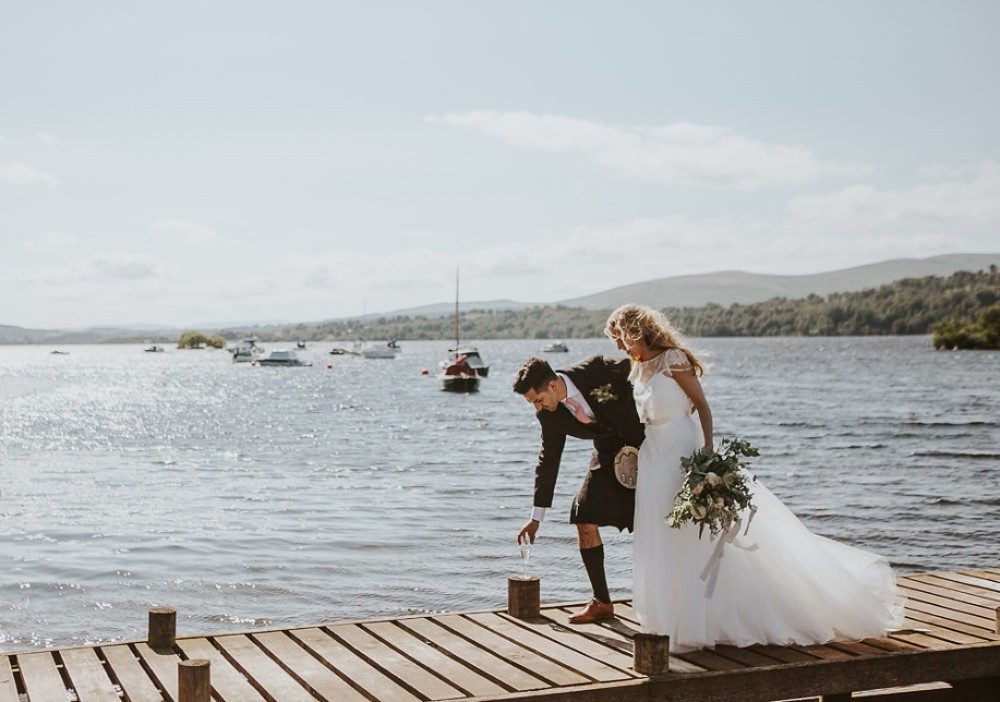 Typically, if the area you have in mind is flat, with good access to roads, we can usually make it work. As part of our booking process, we usually include a site visit to check these things off – google earth is also brilliant for that initial check of the area at quote stage!
Which Marquee is best for our wedding?
This is usually dictated by personal preference, if the time of year hasn't narrowed your choice. When it comes to marquees, there's a fabulous choice available to you, so it often comes down to the particular style that you're looking for.
Aurora Sailcloth Tent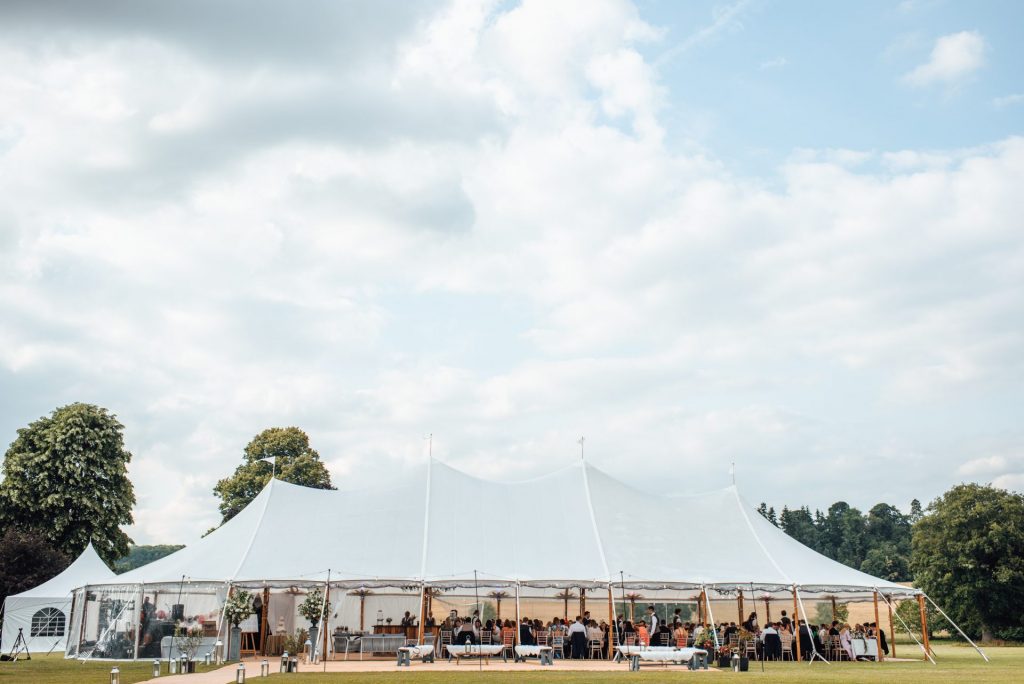 Our most popular wedding marquee, these tents are flexible in size, beautifully elegant and are a perfect blank canvas for any couple to add their own stamp to their day.
Great for:
Summer days when you want the sides off the marquee
Extending the inside floor to outside areas
Amazing marquee lighting! The sailcloth tent is a fabulous blank canvas that can be lit with patterns and lights to look even more spectacular at night
A light, airy space with a striking silhouette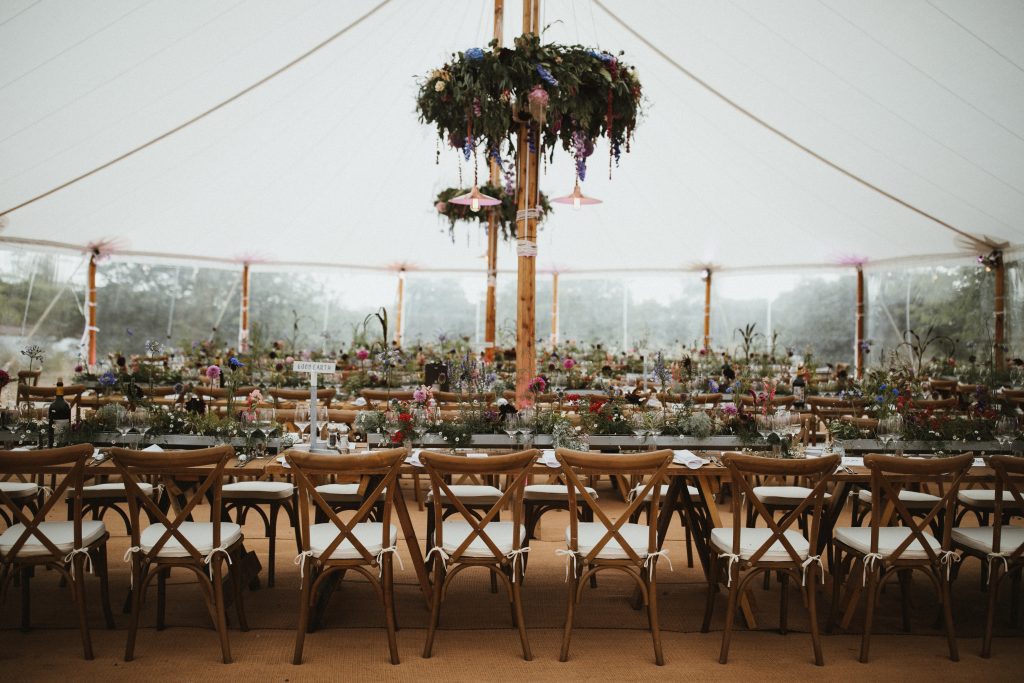 ---
Nomad Hybrid Stretch Tent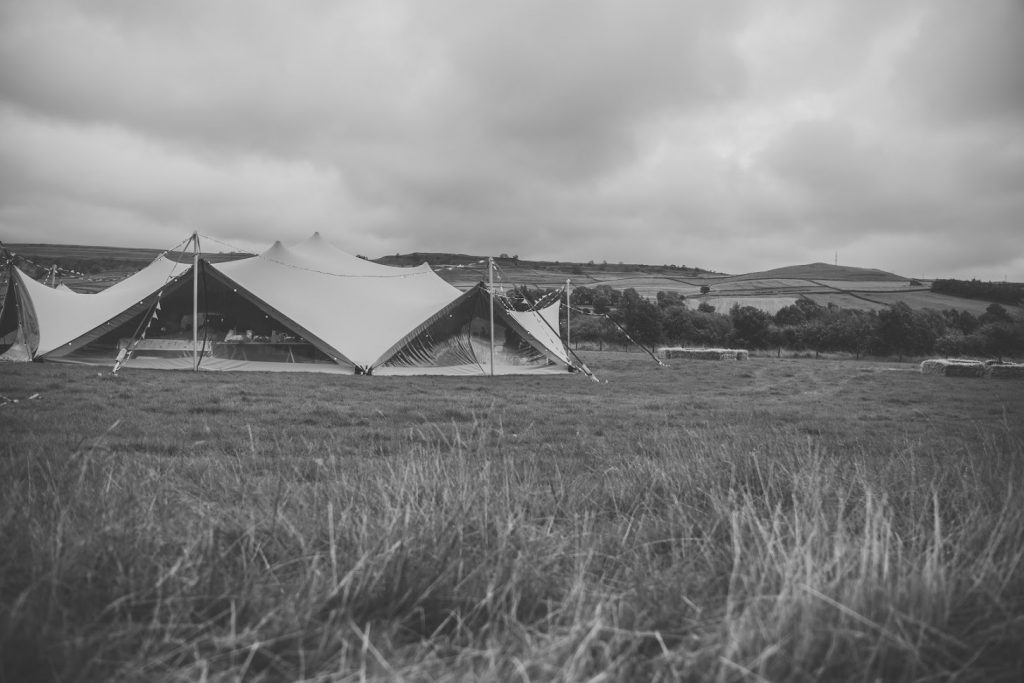 The newest addition to our portfolio, 2020 was going to be the Hybrid's first full season! We often describe it as the perfect combination of a sailcloth tent (due to it's window walls and cool silhouette), and a tipi (as it's sand coloured, cosy and offers a totally different feel inside compared to the sailcloth).
Great for:
A cosier look that's more practical than a tipi
Fire pits, sheepskin rugs, and fairy lights
Has removable sides for fine days, and window walls for more inclement weather
Those couples who are looking for a wedding marquee that's just a bit different!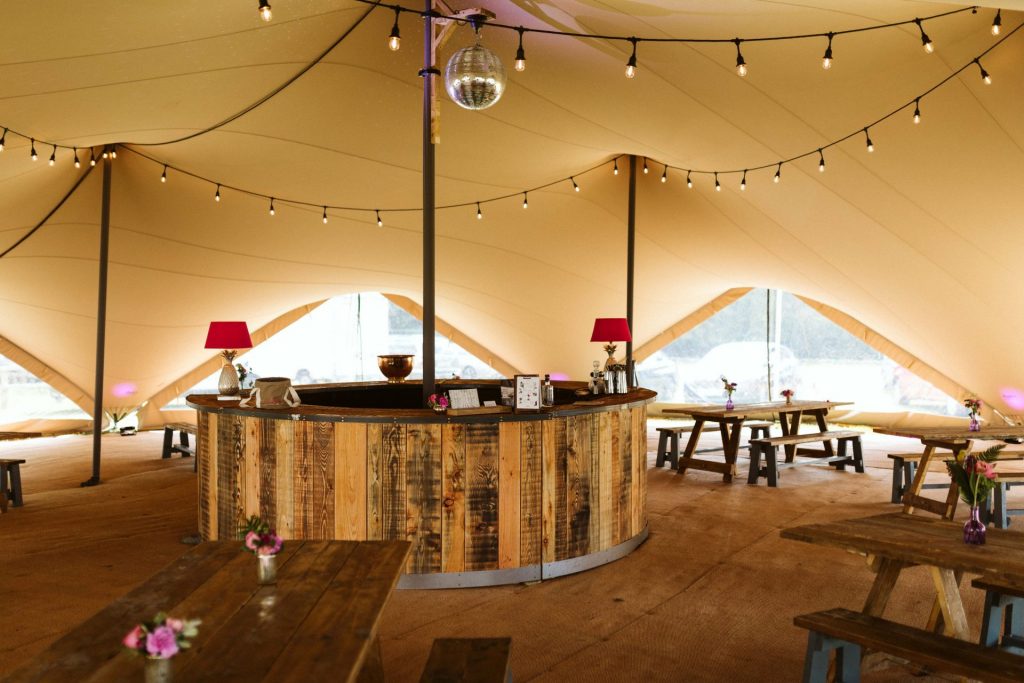 ---
Tipis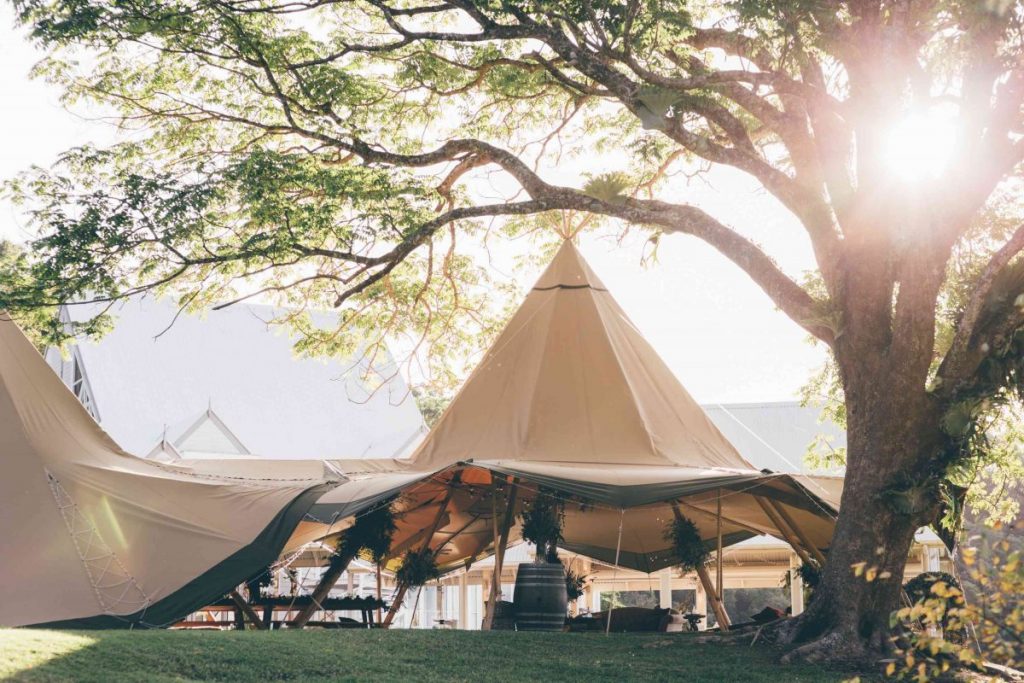 Great for:
Those who love the traditional tipi set up and wigwam look
Adding additional tipis to extend the space by adding more pods
Darker days when cosiness is key, adding fairy lights & fire pits
---
Clearspan Marquees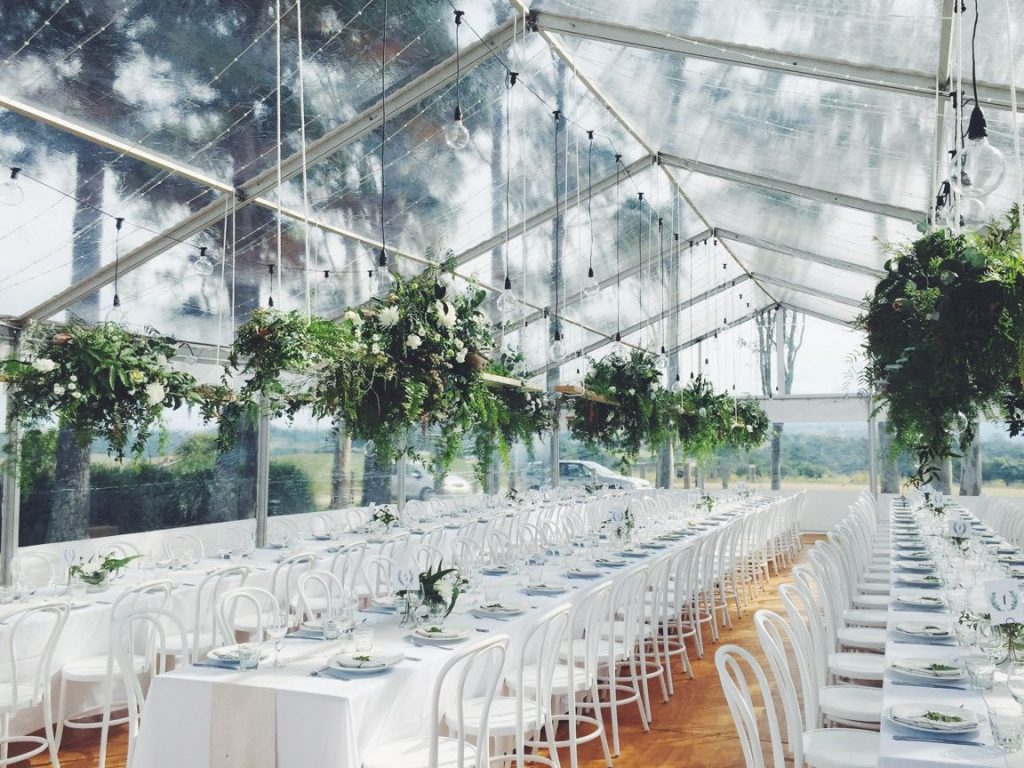 Great for:
All year round weddings, and for marquee sites that aren't completely flat
Those couples looking for ceiling window panels in their marquee
Marquees with distinct areas, with reveals between sections (between dining area and dance floor etc)
---
Conclusion
As you can see, the choice of marquees is endless and we simply can't list them all here. We've outlined the main styles of marquees that we find most people consider, but naturally there are more! There are yurts, petal pole marquees, Indian style tents and more. Having worked in a variety of tents over the years, we're obviously a little biased when we say that our Aurora Sailcloth and Nomad Hybrid Tents are some of the best marquees available to hire at the moment. Not simply in terms of appearance, but also in terms of flexibility, quality and presentation on the day.
If you're still not sure which wedding marquee is for you, do get in touch! We'll be happy to chat through your ideas so far and give you a genuine recommendation.