Introducing… The Nomad
Published on 20th March 2018 by
Jenny Mason
The latest addition to our portfolio of amazing tents, is the Nomad. These fabulous stretch tents are a fantastic alternative to the high ceilings of the sailcloth marquees – for those looking for something a little bit different, the Nomad might just be what you've been looking for…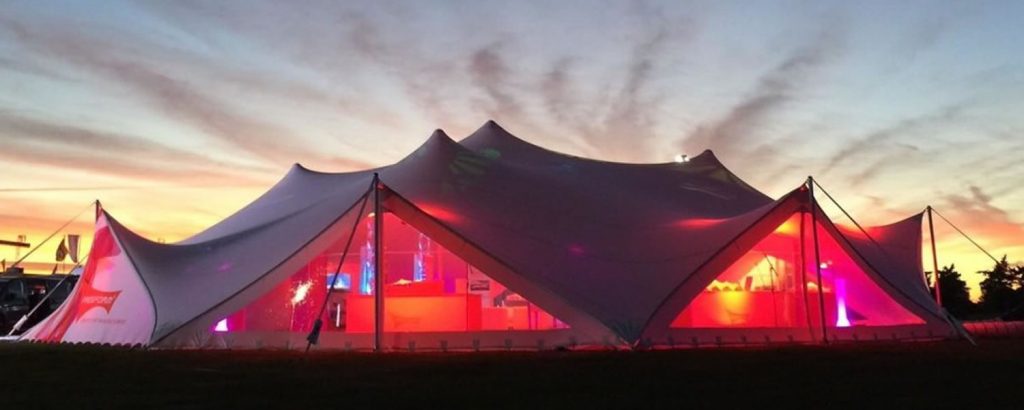 Whilst we obviously love all our marquees and tents, there's a new kid on the block, and it's a good one!
Something about the Nomad caught our eye – these stretch tents are cool, they're quick to put up, they're perfect for a huge range of events and even come in different colours. For anyone looking for the cosiness of a tipi, that's not a tipi, then this is the tent for you!
Essentially there are two options; the normal 'stretch tent', which is open sided and great for any event May – September, or our hybrid stretch tent which comes complete with window walls. The latter has the advantage of being weather proof, so with a little bit of heating it's great all year round.
We have put together a fantastic package that includes everything you'd need to get started for your event – the Nomad tent, festoon lighting, some beautiful casual seating, one of our hand-made timber bars and full dancefloor. Packages based on 100 guests start from just £3,950 + vat.
As the Nomad is a new addition for this year, we're currently waiting for its first outing to be able to get some official photographs.
More images coming soon!
If you'd like more information about hiring one of our brand new Nomad tents, then please do get in touch and we'll be delighted to chat through your options.