Stunning Marquee Wedding at Home
Published on 5th February 2023 by
Jenny Mason
Take a look at all the details from Anna and George's truly beautiful marquee wedding at home! We're thrilled they've shared the details of their day with us and hope you enjoy a little wedding inspiration too. Images by the very talented Charlotte Palazzo Photography are used throughout.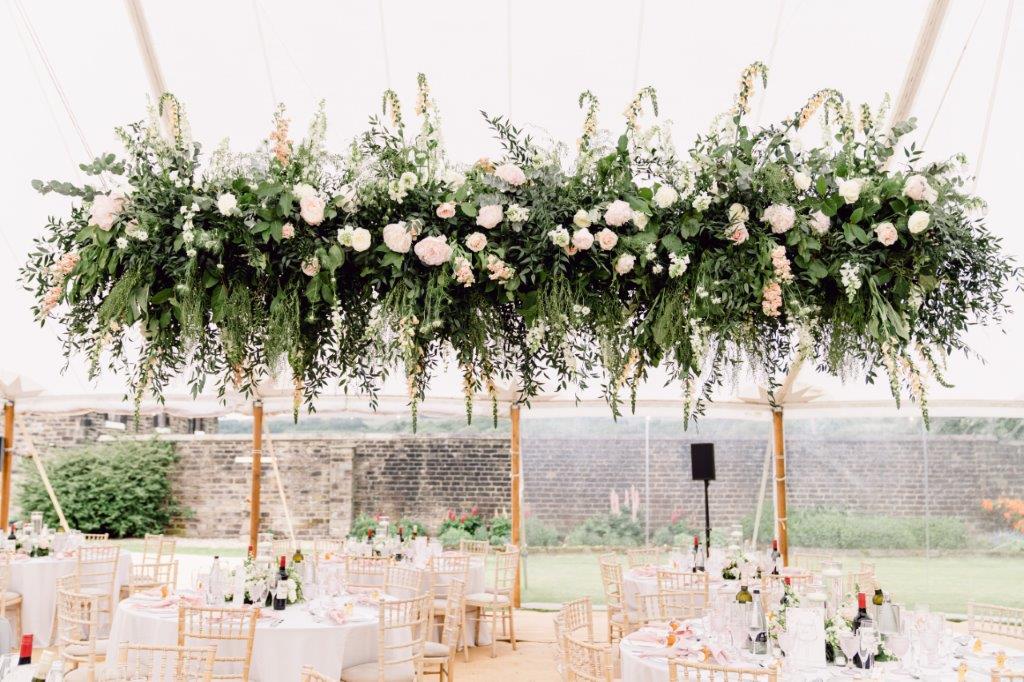 Introducing Anna & George..
George and I have been together 10 years, having met at school and then getting together at sixth form. After surviving 5 years of long distance whilst we both went to University, we got engaged in October 2019 at our favourite spot in Keswick, overlooking Derwentwater. We were due to get married in June 2021 however the pandemic pushed our wedding back 12 months, but the wait was so worth it and made our day even more special with all our family and friends.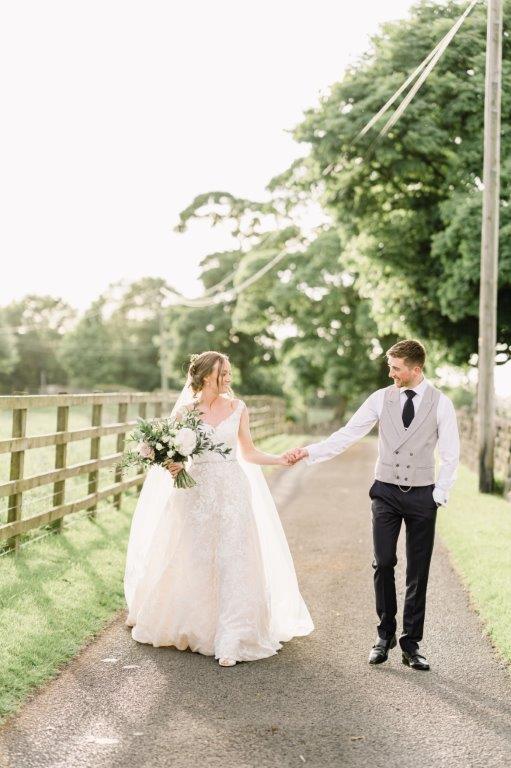 Had you always wanted a marquee for your wedding?
We always loved the idea of a marquee wedding at home, we didn't look at any other venues. We were fortunate to have the reception at George's family home, once belonging to his Grandparents. The location is beautiful with views over Rivington Pike. It is also very special to George's parents as they too had their wedding reception in a marquee in the same garden 30 years ago.  Everyone always talks about how their wedding was amazing and so unique. The beauty of a marquee wedding is that you have 'free reign' to make it your own – we knew we wouldn't get this with any other venue.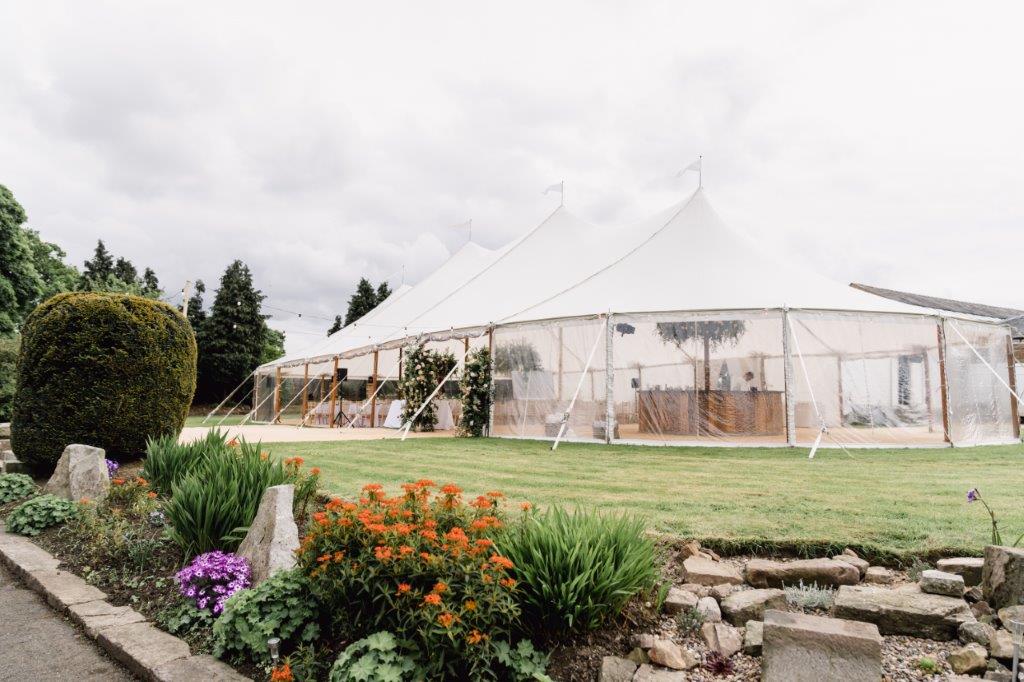 Did you find planning and coordinating the venue and suppliers easy to do?
I'm sure if you speak to anyone who has had a marquee wedding they will tell you just how much there is to organise. But as soon as we met Paul, he put our concerns at ease. He pointed us in the right direction for a number of our suppliers whom they had worked with before. The team at Shades were very easy to communicate with which was very reassuring in the weeks leading up to the wedding when we had any last minute concerns. We also had the help of Proud House Events (PHE) who worked with our suppliers to coordinate leading up to and on the day. We wouldn't have done it without either of them.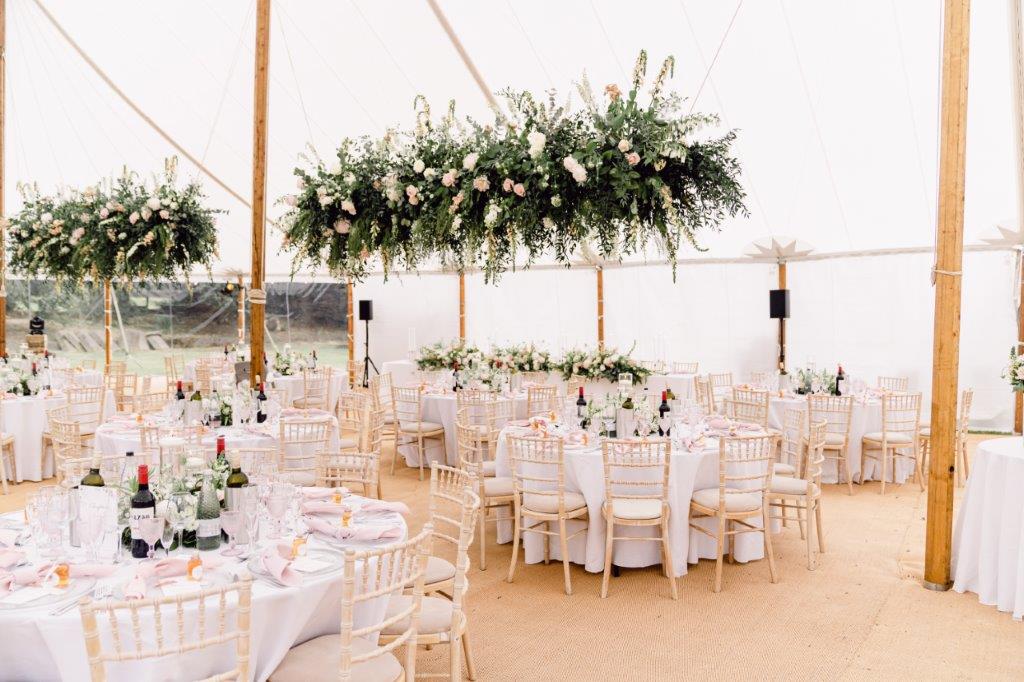 What made you choose the sailcloth from Shades?
We always knew we wanted a sailcloth/ sperry tent as opposed to a traditional marquee or tipi. What made Shades stand out from the rest, was its clean cut, elegant design. It was truly stunning as many of our guests commented. We loved the fact that Shades offered us a package including toilets, tables, chairs, bar structure etc. which saved us a lot of organising as many other companies you have to source these separately. It took a big weight off our shoulders when organising the practical elements of the wedding. When Paul came out to do a site visit in the very first stage of planning, his passion, pride and attention to detail stood out above the rest and filled us with confidence.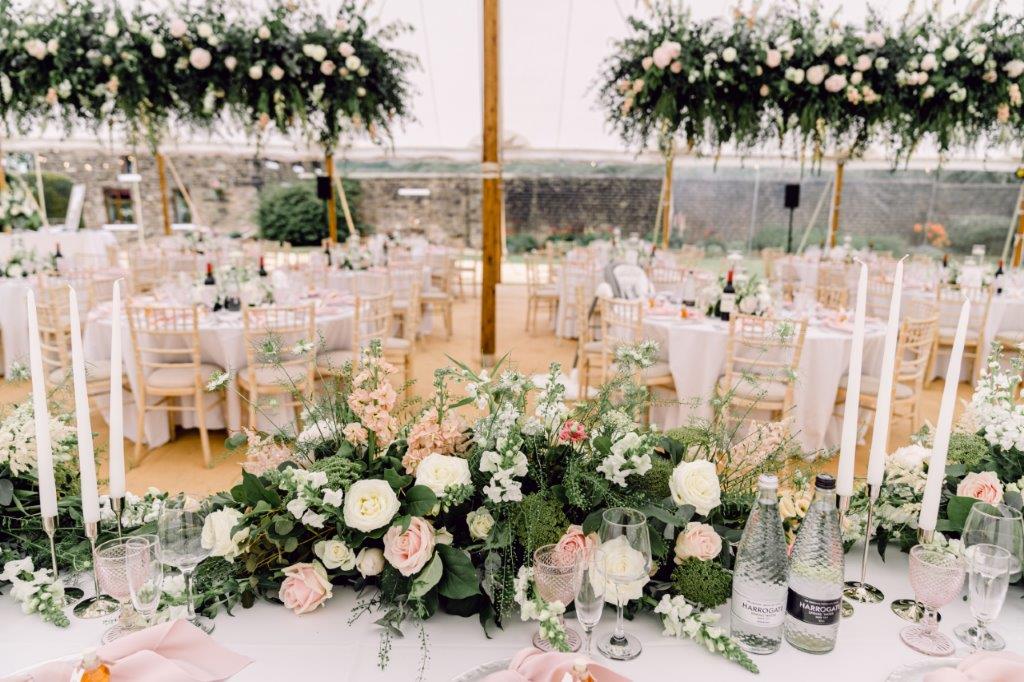 How was everything on the day?
Our wedding day was perfect, everything we could've dreamed of and more. Everything came together perfectly and ran smoothly, all thanks to our wonderful suppliers that helped bring our vision to reality.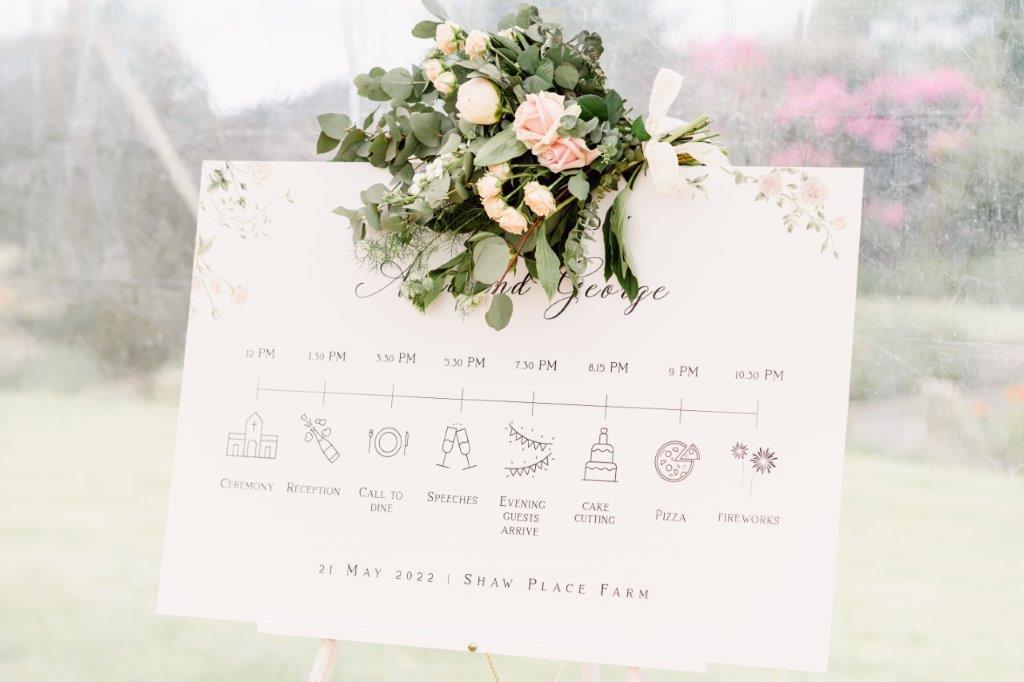 What was your most memorable moment?
Arriving back at the venue after the wedding ceremony with the string quartet playing and seeing the final touches to the marquee for the first time. We were so excited for the guests to arrive, seeing their reaction was priceless, they were blown away. As we sat at the top table, it was so nice to see everyone enjoying themselves and for us to take a minute to feel proud of what we had achieved and releasing all the effort was worth it.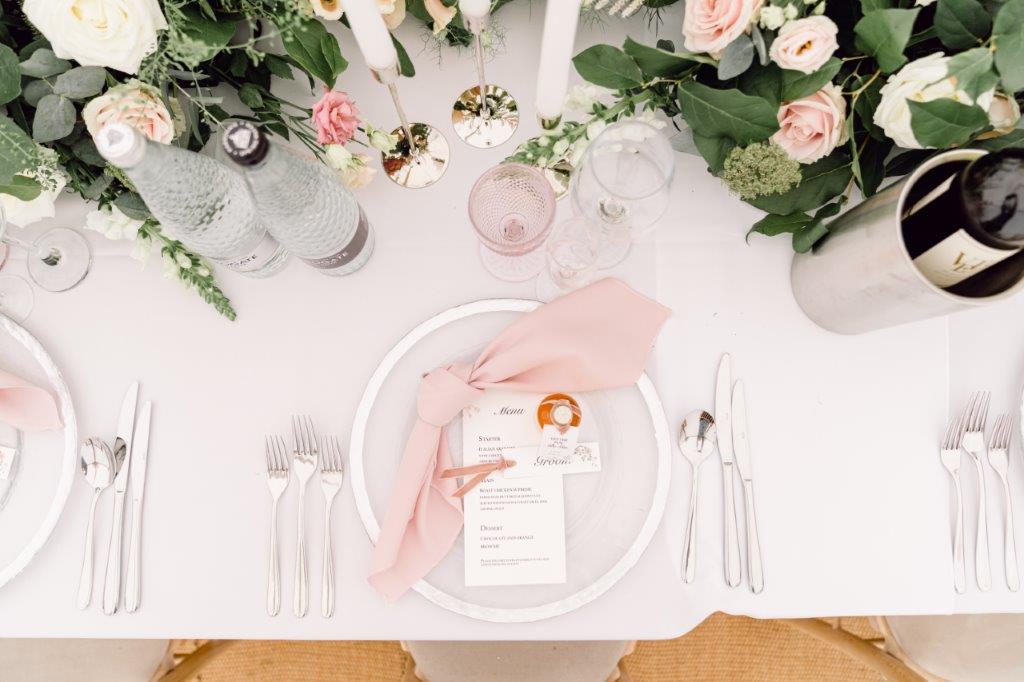 What advice would you give to anyone else planning a marquee wedding?
A marquee wedding definitely takes a lot of organisation and planning so choosing the right suppliers to help you along the way is essential. I think a common misconception is that marquee weddings can save you money, there are a lot of hidden extras that do add up. Admittedly, you can make it as cheap or as expensive as you like but using a company like Shades which has everything included can help you budget accordingly with no hidden costs. The day would not have run as smoothly without our event coordinators from Proud House Events (PHE). We would say having a coordinator is priceless to ensure that you can relax fully on the day, especially if you are having a marquee wedding at home. But most of all, we would say GO FOR IT! You will not regret it.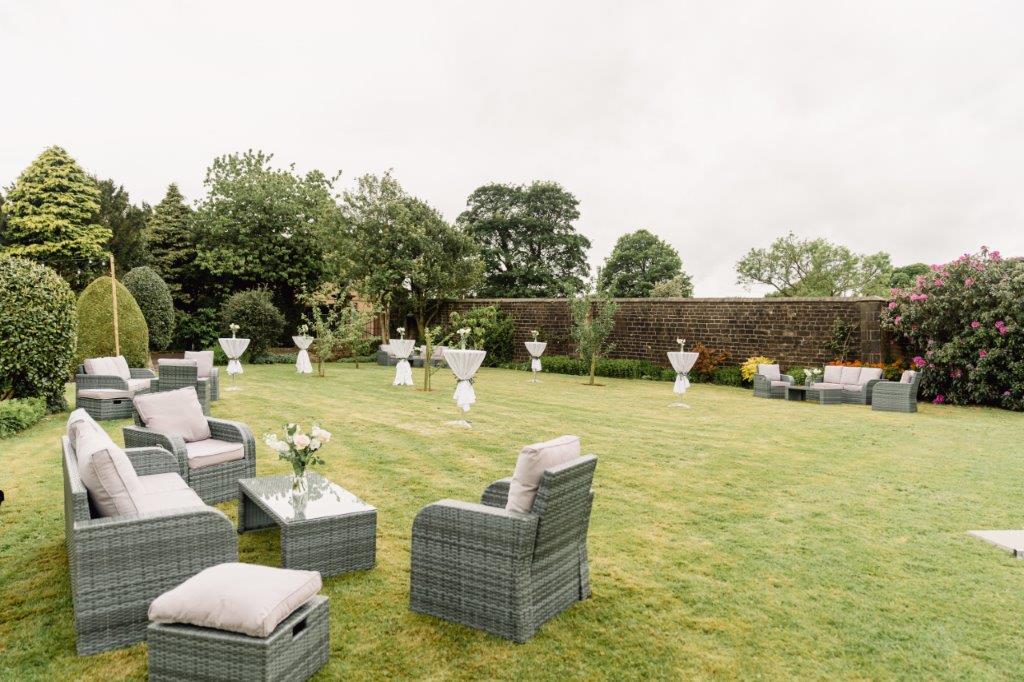 Our Key Suppliers:
– Proud House Events (PHE) Event coordinator, lighting, fireworks
– Ewer-Roberts – Florist
– Good Food Story – Caterers
– Fusion Events -Bar
– Fratellis – Pizza van
– Charlotte Palazzo – Photographer
– Catherine Luther Wedding Films – Videographer
– Broughton Wedding Cars – Cars
If you're planning your marquee wedding and would like some more information, prices, or just a chat, do get in touch, we'll be happy to help!