Oxfordshire Marquee Wedding at Home
Published on 21st January 2023 by
Jenny Mason
Laura & Jonathan's Sailcloth Tent Wedding at home in Oxfordshire was a truly fabulous day! With a glitter ball drinks reception and humanist outdoor ceremony, they partied into the night. Here, Laura tells us a bit more about their special day, and their planning tips.
Images throughout are by the brilliant Matt Parry Photography,
Tell us a bit about you both..
We met at 18 on our first day at uni and have been together ever since. We both work in the music industry. Jon is a sound engineer and Laura works in marketing.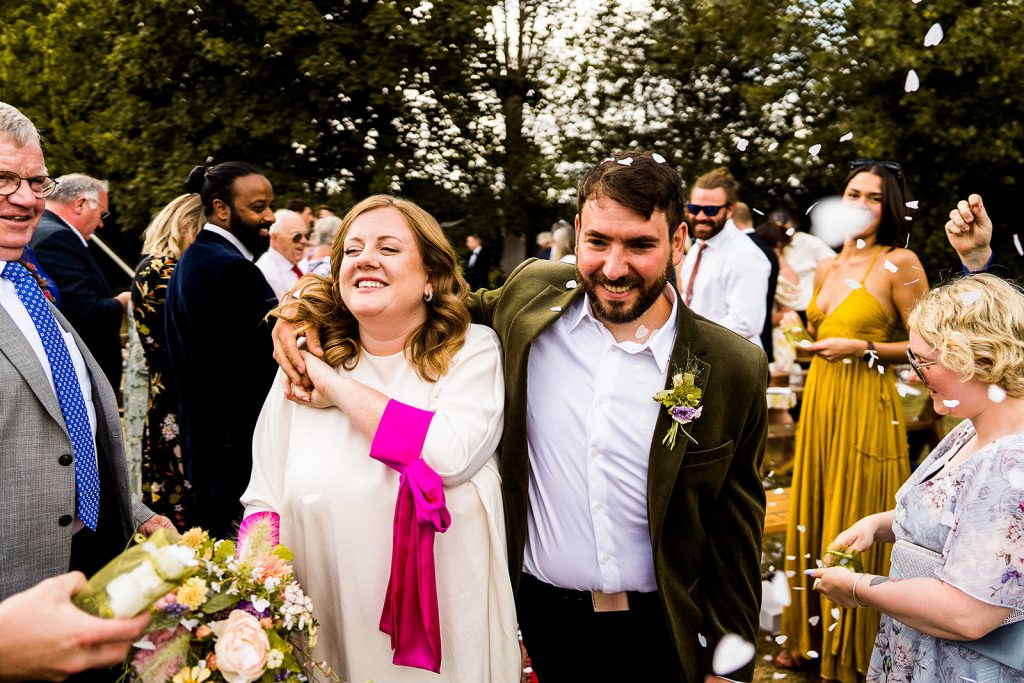 Had you always wanted a marquee for your wedding/what made you choose to hold your wedding in a marquee?
After visiting a few venues, they were pretty, but just lacked the complete flexibility of what we were after. They had set times, needed to use certain suppliers and tended to have a venue coordinator that had a checklist to work from and wouldn't deviate. We had our marquee in Laura's parents garden and it allowed us complete control over the day. Once we'd decided to do it there it was just a case of picking the tent and it just so happens that the 2 pole sail cloth tent was the perfect fit!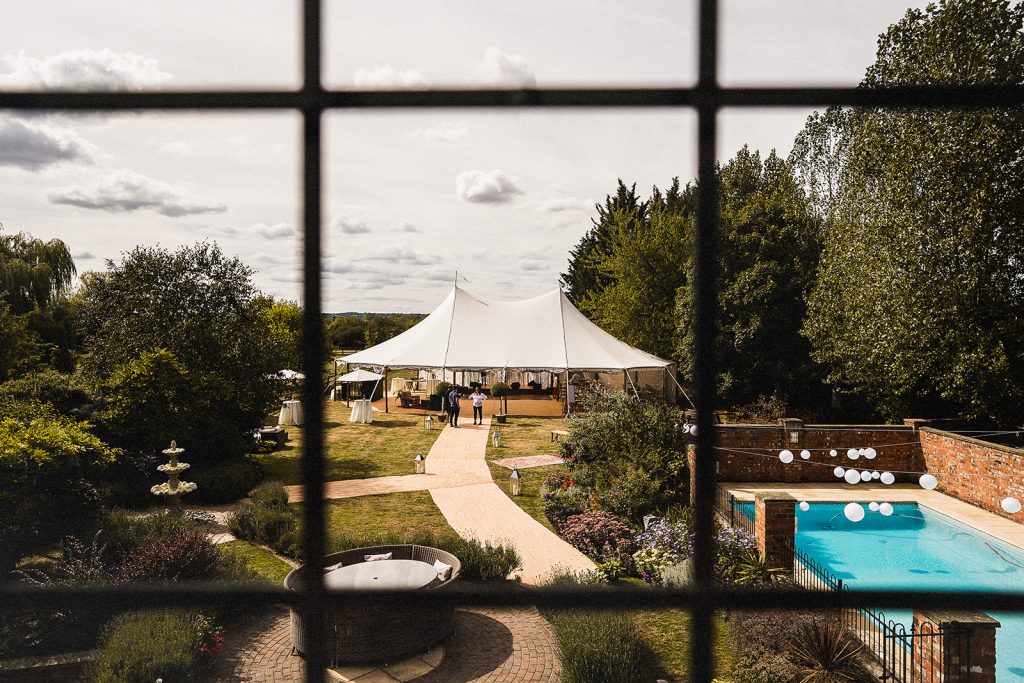 Did you find planning and coordinating the venue and suppliers easy to do?  
It was at the house where Laura grew up so yes! We had the help of Mrs T Weddings on the day who was invaluable and as it was at a family home we could have suppliers visit as many times as they needed and we know every aspect of the space so could answer questions immediately. There was a lot of flexibility on delivery times and set up and pack down too which helped. I'm not sure Laura's parents would say it was easy having to live around supplier visits and endless deliveries but it was a lot less stressful for us (thanks Pam and Simon!)
What made you choose the sailcloth from Shades?
We knew we wanted a sailcloth, but because we had to do a lot of the production ourselves, we wanted a company that could deal with loos/chairs/tables in one go and you had lots of options. On our site visit we said we wanted to hang a load of disco balls from the ceiling and Dave didn't even bat an eye lid. He was like 'sure you could do this, this and this' and we just knew this was the level of enthusiasm and personalisation we wanted. 
How was everything on the day?
Perfect – it was actually really chilled. We had the tent for a few days before the day so it was all fully set up. No mad morning rush or sending someone out as we had forgotten something. Having the wedding at home just meant we had everything we needed and all the time to do it in. The tent was beautiful and fit perfectly in the trees. It was hidden right up until the moment you turned into the garden and we didn't tell many guests what to expect, just it was in our home and their faces when they saw it were amazing. The garden feels very empty now. With the exception of Laura's grandmother blowing a fuse with an old kettle and turning off the bands electrics, we'd change nothing. Thankfully, Jon being a sound engineer, got it back up and running in no time!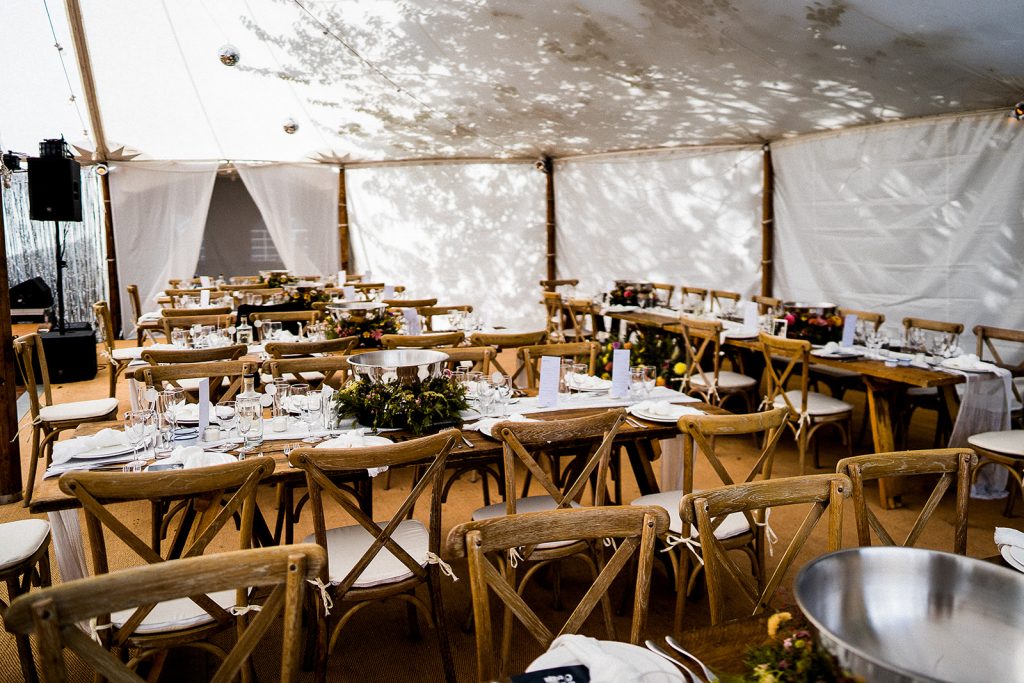 What was your most memorable moment?
Laura: it's hard to pick one moment. I loved all of it. But something I'll remember forever was probably the night before. We didn't want to stay at separate places so we had all of our bridal party stay at the house with their partners. We had a big BBQ and ate in the marquee. We played music and I made everyone practise walking down the aisle until late into the night. It was good fun and had such sense of relief that we'd got everything done in time.
Jon: Just after the ceremony we had a cocktail hour in the afternoon sun. We got to talk to all of our closest friends and family and could start relaxing into the day.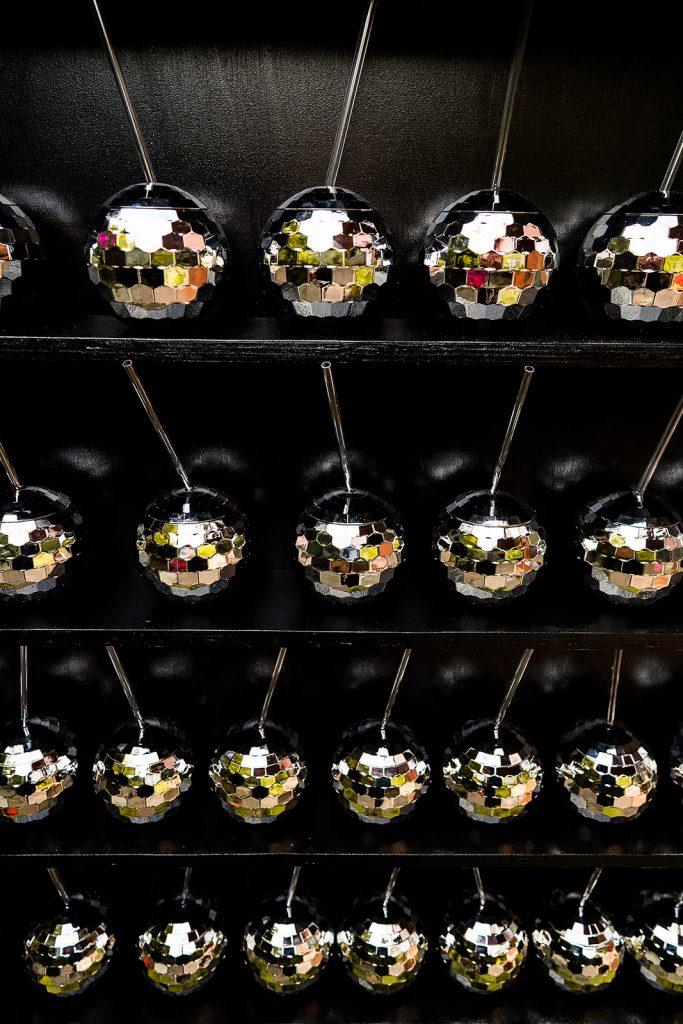 What advice would you give to anyone else planning a marquee wedding?
Do it. Give yourself plenty of time for set up and pack down and if it's at a family home then I'd strongly recommend an on the day coordinator at the minimum. The last thing you want to be doing is running around in your robe letting suppliers in at 7am! There's a lot of room to get really creative with your decor and how to use the space. Sailcloths are very pretty on their own, they don't always need filling to be impactful.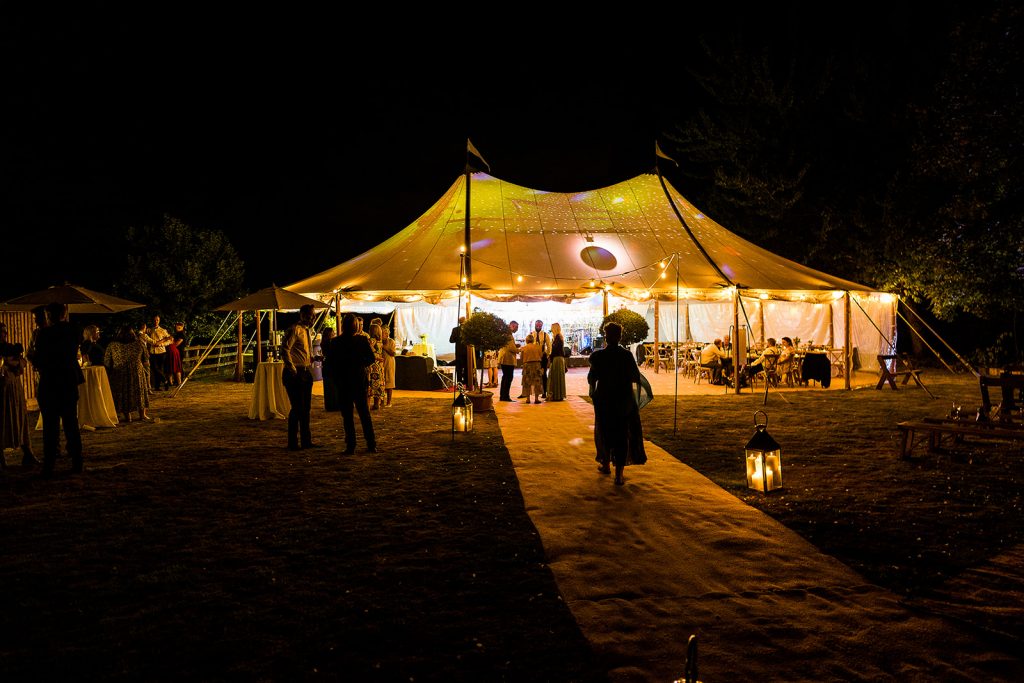 I know you've listed most suppliers below, but did you have a florist?
Yes and no. Laura's dad actually grew many of the flowers and her grandma and family friend arranged them all the day before. However we had that blistering summer where it was over 35 degrees and keeping the flowers alive was a struggle. We found a local flower farmer called 'Flower and Farmer' a few weeks before when the weather started heating up and asked if they could do a few buckets of wholesale for us in case the heat got the better of us. Dad's an amazing gardener but didn't want to put that much pressure on him for all the flowers battling the elements. He was out watering the lawn at 5am everyday to keep it alive! In hindsight that was probably the most stressful part of the wedding. Daily video calls checking in our cosmos and roses! So they did our bouquets and buttonholes but everything else you see was Laura's Dad and Grandma. 
Photographer – Matt Parry Photography
Planner – Mrs_t_weddings
Celebrant – Kickass Gatherings
Catering – The Wild Oven
Band – Ear Candy Oxford